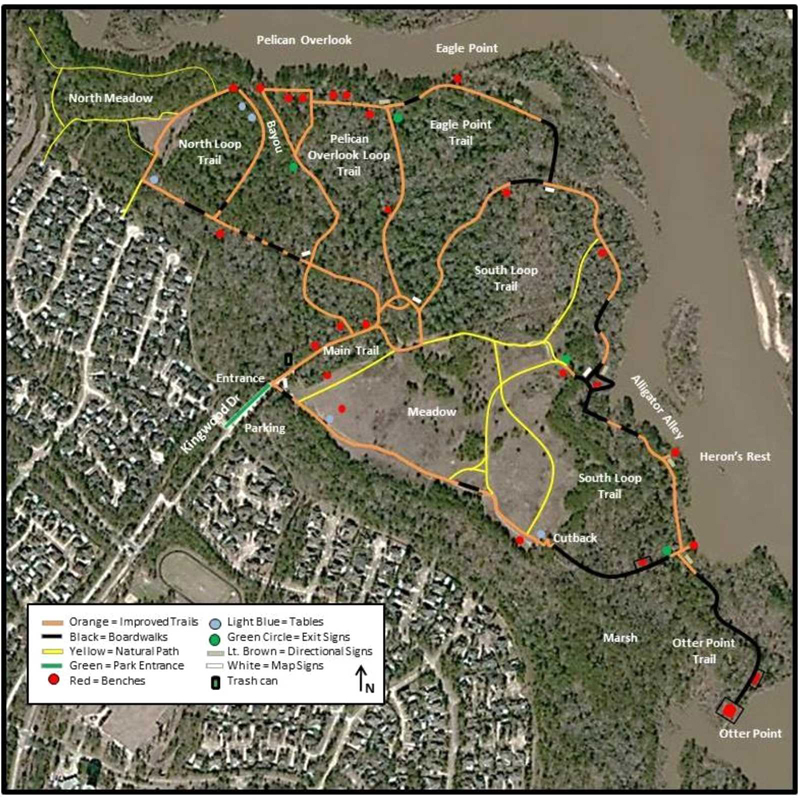 Click here to download map
Click here to download park rules
BOARDWALKS
East End Park has more than a half-mile of boardwalks in nine sections that wind through swamps and marshes. Most of these boardwalks are on the South Loop Trail. Two are on the Eagle Point Trail. One is on the Otter Point Trail. Several small ones are on the North Loop Trail. They give visitors a glimpse into an ecosystem rarely seen.

After a heavy summer rain, one can hear hundreds of frogs from the boardwalks.
HIKING AND JOGGING
East End Park contains more than 3.5 miles of crushed granite trails that are ideal for hiking and jogging. Compared to asphalt or concrete, this natural surface has more "give" which reduces stress on knees and backs.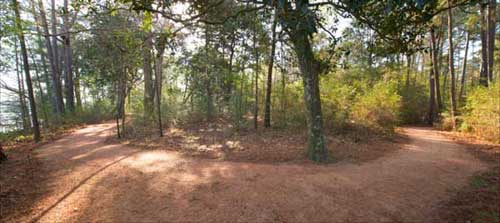 Approximate Distances:
Round Trip To/From Entrance On Improved Trails:
South Loop = 1.55 miles
Eagle Point Loop = 1.15 miles
Pelican Overlook Loop = 1 mile
North Loop = 1.25 miles
Otter Point = 1.6 miles
South/Eagle Point Loops = 1.75 miles
Eagle Point/Pelican Overlook Loops = 1.3 miles
South/Eagle Point/Pelican Overlook Loops = 1.95 miles
North/Pelican Overlook Loops = 1.65 miles
North/Pelican Overlook/Eagle Point Loops = 2 miles
Entire Perimeter Including Otter Point Extension = 2.45 miles
Otter Point Extension = .4 miles RT
From Entrance To Nearest Point On Lake:
North Loop = .55 miles
Pelican Overlook Loop = .45 miles
Eagle Point Loop = .5 miles
South Loop = .6 miles